By Arno Boersma, Founding Partner, Island Impact
When I visited St. Maarten in 2017, not long after hurricane Irma had devasted the small island state, I was struck by three things: One, nothing compares to seeing that degree of devastation in-person on-the-ground; Two, the positive spirit of the people to rebuild and get on with their lives; and Three, the apparent lack of a mechanism to consolidate that individual spirit into collective change.
My visit was on behalf of the Centre of Excellence for SIDS – a UNDP initiative on Aruba that I was managing at the time – to see how we could help. We decided to address my third observation: to create a mechanism in order to help channel the community's positive spirit into change. To create resilience through community engagement, you must give anyone with the willingness to contribute a chance to speak their mind and share their ideas. Next, we wondered: How do you tap into the entrepreneurial spirit of a nation to recover from a hurricane? How do you connect talented professionals with ideas to build back better? And how do you use the collective expertise to come up with solutions for a more resilient future?
Since we were a small center, we needed to be nimble, innovative and enterprising. Our approach was to be a convener and connector by connecting the right people to each other and fostering collaboration to avoid reinventing the wheel. This helped to lower costs and leverage existing good practices. So in March 2018, we partnered with the private sector, most notably EY Caribbean, in organizing a weeklong program called "Build Back Better for a Resilient Island Future" in St. Maarten. It quickly evolved into an interactive, inclusive event focused on putting ideas into action. We combined the format of the summit to include a hackathon with trade missions from other countries, a youth engagement event, and deep-dive expert sessions. The attendance and support of the Prime Minister was the icing on the cake.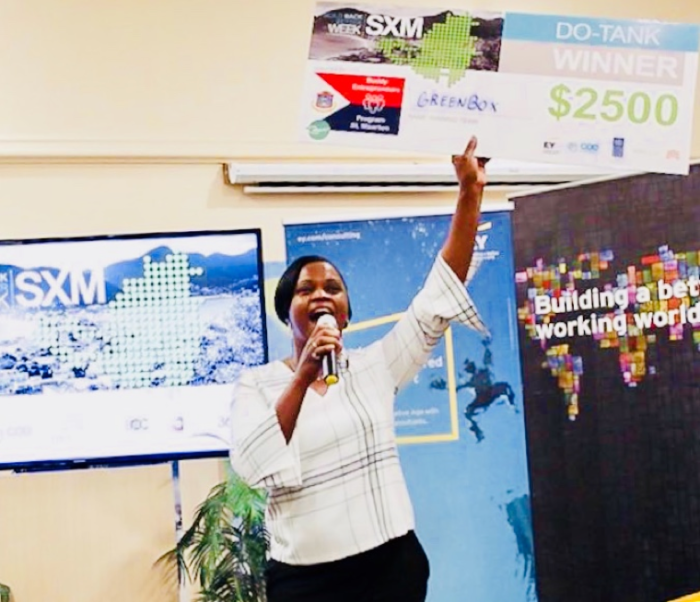 In addition, we hosted an intense but inspiring weekend, called the "Do-Tank", where local community members and international entrepreneurs alike presented new ideas and concepts with the intent to build back better for a resilient island future.
Also during this time, in order to foster connections between local and international entrepreneurs, Present Your Startup, together with the Dutch Caribbean Chamber of Commerce, organized a day of business networking. The conversations were hard to stop as businesses in renewable energy, sustainable tourism, construction and many more exchanged ideas and opportunities around the common goal of increasing the islands' resilience to climate change. Discussions topics included reducing dependency on fossil fuels, reversing the brain drain, diversifying the economy, cleaning the ocean, and making tourism sustainable, just to name a few.
And to ensure the voices of the next generation were heard – both youth and young professionals – a session was organized to gather their input for how St. Maarten can build back better. The Minister for Education, Culture, Youth & Sport joined the session and supported the outcomes, including the creation of the WEF Global Shapers community in St. Maarten.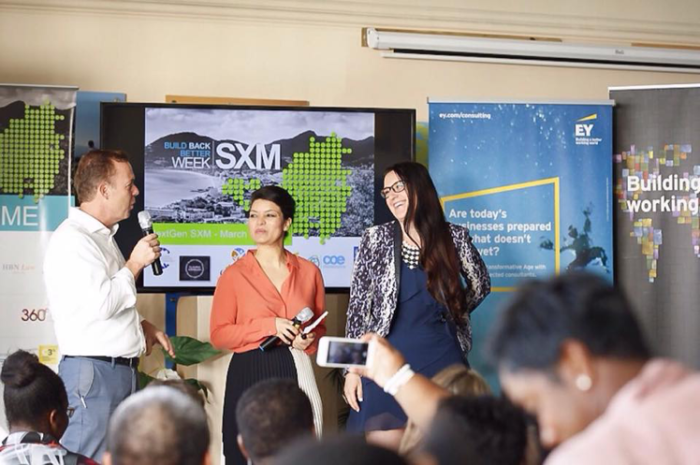 This community engagement initiative led to clear and lasting impacts. One highlight was that the winners of the hackathon went on to launch their recycling company GreenBox. Additionally, the St. Maarten Hospitality and Trade Association (SHTA) and their partners went on to organize SMILE, an innovative networking event for businesses and NGOs to highlight "how things can be done differently after Irma" through more sustainability and innovation.
In short, the resulting ideas, connections and friendships made from this community engagement event formed a great basis for supporting the island in building back better for a more resilient future. They worked to complement national recovery planning efforts by the government and multi-lateral institutions such as the UN and World Bank. This combination of top-down and bottom-up approaches should be standard practice as islands mitigate risk and build their resilience.
Community Engagement and other critical themes will be explored further during the UR Caribbean conference to be held May 27 – 31 in Barbados.
---