What is Understanding Risk?  
Understanding Risk (UR) is an open and global community of over 9,000 experts and practitioners interested and active in the creation, communication and use of disaster risk information. UR community members share knowledge and experience, collaborate, and discuss innovation and best practice in disaster risk assessment. We come from nearly 180 countries across 2,200+ organizations.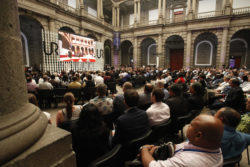 UR is the preeminent platform for collaboration, knowledge sharing, and innovation in identifying and assessing disaster risk.
The community convenes every two years at UR Forums – five-day events that highlight best practices, facilitate nontraditional partnerships and showcase the latest technical know-how in disaster risk identification. The community also holds smaller spinoff events at the municipal, national and regional levels. By the end of 2019, the community will have convened 16 spinoff events. To learn a little more about the UR Community, check out a keynote from the manager of the UR Community, Simone Balog-Way, who provided an overview at UR Boulder.
UR Forums:
For more information on the UR Forums see the following links:
Who are members of the UR Community?
UR community members consist of experts and practitioners in disaster risk identification ranging from representatives of government agencies, multilateral organizations, the private sector, non-governmental organizations, research institutions, academia, community-based organizations, and civil society. It is an open community and anyone can join.
How do I become a member?
If you are passionate about risk identification, join us at the next biennial global UR Forum! We also are partners in smaller Understanding Risk events that happen throughout the year. Check out our events page to find out more.
Sign up for our newsletter, join our LinkedIn group and follow us on Twitter to find out about new happenings in the field.
How do I include my initiative on the UR website?
If you have an initiative related to disaster risk identification that you think would be of interest to the UR Community, please apply by filling out this form and providing the requested information.
History of the UR Community:  
The UR Community was born out of a recognized need for the disaster risk assessment and identification field to cross sector and industry boundaries. Since the founding of UR in 2010, the field of disaster risk identification has grown with innovation in identifying, assessing and communicating disaster risk.
UR convenes its members every two years at UR Global Forums. Additionally, regions, countries and cities have hosted their own smaller UR events, and the USA to allow the host city, country or region to host on issues relevant to them.
The UR Community website was created prior to the first UR Forum in 2010 to enable conference participants to exchanges ideas on the various session topics leading up to, and following the conference.
Contact us: Simone Balog-Way, Disaster Risk Communication and Management Analyst, GFDRR Innovation Lab sbalogway [at] worldbank [dot] org
Understanding Risk is an initiative of the Global Facility for Disaster Reduction and Recovery (GFDRR), part of the World Bank Group.