The Proceedings from the 2018 Understanding Risk Forum offers key takeaways and reflections from the leaders of 20+ technical sessions at UR2018. The forum took place in Mexico City, Mexico, from May 14 to 18, 2018, with the theme Disrupt. Communicate. Influence.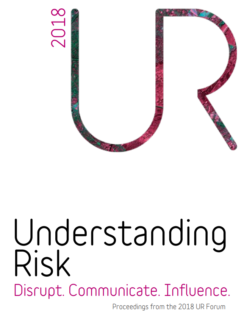 The Understanding Risk community was born in 2010 out of the recognition that disaster risk assessment and identification were activities that cut across sectors and industries. What began with just five founding partners has grown into a community of over 8,000 experts and practitioners interested and active in the creation, communication, and use of disaster risk information. This network has inspired innovation by sharing and applying best practices, developing technological solutions, and enabling cross-sector partnerships.
This vibrant UR community meets every two years, bringing together a diverse group of people from the private, public, nonprofit, technology, research, academic, and financial sectors. Every iteration of the UR Forum has produced new ideas and partnerships that have improved risk assessments and the communication of risk information, helping to integrate them into policy and development planning.
Files