By Christopher Wieczorek, Harold Magistrale and Thomas Roche of FM Global
Resilience, in its highest form, entails the elusive ability to prevent disasters from cascading. Can your business, industry, community, or nation contain a disaster as a solitary "domino"? Or will a single event trigger a cascade of human and economic setbacks?
Resilience, the ability to resist and rebound quickly after a disaster, requires avoiding any effect of a disaster that is preventable so that a disaster ends after it has wreaked only the destruction that was inevitable. As the title of our Understanding Risk technical session indicates (Understanding Cascading Events: Earth, Wind and Fire), we will closely examine how disasters cascade and the tremendous resulting costs. This understanding will help participants develop more effective strategies to minimize these cascading effects, calculate the costs and benefits of investing in resilience, and plan for successful rebounds.
What does a cascading disaster look like?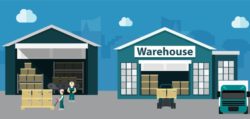 Imagine you are a manufacturer of cell phone components containing rare earth elements and have a warehouse filled with delicate and expensive parts. The warehouse is warmed by a gas-powered space heater. An earthquake strikes. The ground shakes. The walls tremble, but the building remains standing. Carefully stacked parts wobble on the shelves, but none fall.
However, the rigid gas line breaks. The space heater, now disconnected from the gas main, topples to the ground, igniting a fire that burns down the warehouse. The earthquake was inevitable but the gas line break was not. That's where inevitability ends. The fire didn't have to occur. It was cascading effect number one, the first of many.
The stored electronics were lost in the fire, so you incur tremendous cost in doubling back to mine new raw materials, process them into useful alloys, and fabricate them into replacement components. There is also an environmental cost to the mining, and a political cost given the ecological value of the minerals. Because the components were destroyed, business operations ceased for weeks. That means OEMs are angry, and revenue has dried up. More resilient competitors are seizing your market share.
On the local level, your employees struggle with the earthquake's impact on their homes and families. Their place of work has been destroyed, displacing them to another facility, necessitating additional travel and difficult working conditions. Some may take another job closer to home. Some of these costs, e.g. the loss of your market share and valuable employees, may constitute irreversible damage.
What resilience looks like
The simple alternative in this scenario? A gas line with a flexible connection and an automatic seismic shutoff valve in a warehouse fully equipped with automatic sprinklers.
The cost of installing these parts would have been a tiny fraction of the cost of the cascading events. Resilience was possible with the help of a modest plumbing job. Skipping that investment resulted in profound damage.
We've seen real-life scenarios that look very similar to the warehouse hypothetical example, except that they affected entire industries. Floods and earthquakes have disrupted computing and automotive supply chains, with cascading effects constituting existential crises for affected businesses. Although we have learned from these disasters, we nonetheless see cascading effects waiting to happen. One example of this would be new construction in flood-prone areas.
Digging deeper
Given that disasters wreak billions in global economic losses, it is critical to know before a disaster strikes what it would cost in lives and dollars, and which costs can be avoided by minimizing the cascading effects of a disaster. We invite you to join us in exploring these important concepts at the 2018 Understanding Risk Forum. We promise a lively, interactive session. We will examine six key dimensions of a nation's resilience in the face of cascading events such as hurricanes, earthquakes, fires and floods:
People
Community
Supply chain
Environment
Operations
Investment
We will also present three different real-life disaster scenarios. Participants will map out how the disaster scenarios might unfold, and generate ideas about how before-the-fact investments could have mitigated the likely cascade. We will discuss, debate and learn together to deeply understand the risk of cascading disasters – and get closer to our goal of resilience.
Image: City view of Bogotá, Colombia on January 11, 2016. Photo © Dominic Chavez/World Bank