Aneesh Chopra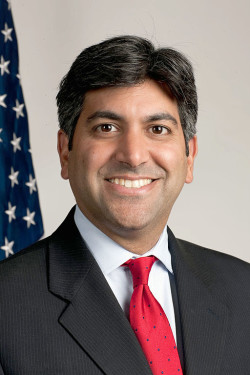 Aneesh Chopra is the Chief Technology Officer and in this role serves as an Assistant to the President and Associate Director for Technology within the Office of Science & Technology Policy. He works to advance the President's technology agenda by fostering new ideas and encouraging government-wide coordination to help the country meet its goals from job creation, to reducing health care costs, to protecting the homeland.
Aneesh was sworn in on May 22nd, 2009. Prior to his appointment, he served as the fourth Secretary of Technology for the Commonwealth of Virginia from January 2006 until April 2009. Prior to his appointment by then-Governor Timothy M. Kaine, he served as Managing Director with the Advisory Board Company, a publicly-traded healthcare think tank. Chopra was named to Government Technology magazine's Top 25 in their Doers, Dreamers, and Drivers issue in 2008. Aneesh Chopra received his B.A. from The Johns Hopkins University and his M.P.P. from Harvard's Kennedy School. He and his wife Rohini have two young children.
Shelley B. Leibowitz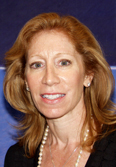 Shelley B. Leibowitz is a leader among technology professionals, with an outstanding track record of both strategy formulation and effective execution.
In July 2009, Ms. Leibowitz became Chief Information Officer and Vice President, Information Solutions, of the World Bank Group. In this role, Ms. Leibowitz is responsible for the technology services and capabilities that underlie the work of delivering quality knowledge and financing products to the Bank Group's clients across the globe.
Previously, Ms. Leibowitz was Managing Director and Company Chief Information Officer at Morgan Stanley, where she was responsible for IT at the corporate level of the Morgan Stanley franchise. Ms. Leibowitz established the firm's enterprise technology organization to provide IT strategy, services, and solutions across Morgan Stanley's major lines of business.
Prior to joining the World Bank, Ms. Leibowitz was Chief Information Officer and Director of Technology for Investment Risk Management, a privately funded alternative investments and risk management platform. Ms. Leibowitz was also board member and technology advisor for Gain Capital, an Internet based market-maker in foreign exchange. In recent years, Ms. Leibowitz has held Chief Information Officer positions at Greenwich Capital Markets, Greenwich NatWest, and Barclays Capital.
In 2002, Ms. Leibowitz received the Merit Award from the Women's Bond Club of New York for career achievement and leadership in the financial industry. She is a frequent lecturer on topics relating to Technology in Financial Services. Ms. Leibowitz is a Phi Beta Kappa graduate of Williams College with a degree in Mathematics.
Margareta Wahlström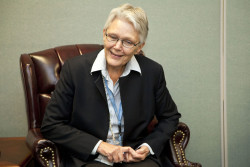 Margareta Wahlström is currently the Assistant Secretary-General for Disaster Risk Reduction. Prior to this she served as the Executive Secretary to the United Nations Secretary General's Panel on the Safety and Security of UN Staff and Premises, and was also the Deputy Emergency Relief Coordinator in the Office for the Coordination of Humanitarian Affairs in the UN. Early in her career, Ms. Wahlström worked for the Geneva-based International Federation of Red Cross and Red Crescent Societies both as Deputy Director Operations and Under-Secretary-General for the Disaster Response and Operations Coordination. Ms. Wahlström holds a Bachelor's degree from the University of Stockholm.
Ed Parsons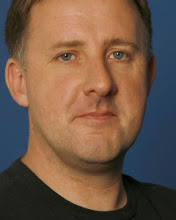 Ed Parsons is the Geospatial Technologist of Google, with responsibility for evangelising Google's mission to organise the world's information using geography, and tools including Google Earth, Google Maps and Google Maps for Mobile.
Ed was the first Chief Technology Officer in the 200-year-old history of Ordnance Survey, and was instrumental in moving the focus of the organisation from mapping to Geographical Information.
Ed came to the Ordnance Survey from Autodesk, where he was EMEA Applications Manager for the Geographical Information Systems (GIS) Division. During his tenure, he helped Autodesk to become one of the key providers of GIS software. Earlier in his career he was a Senior Lecturer at Kingston University, where he helped establish Europe's first undergraduate course in GIS.
He earned a Masters degree in Applied Remote Sensing from Cranfield Institute of Technology and holds a Honorary Doctorate in Science from Kingston University, London.
Ed is a fellow of the Royal Geographical Society and is the author of numerous articles, professional papers and presentations to International Conferences and he developed one of first weblogs in the Geospatial Industry at www.edparsons.com.
Ed is married with two children and lives in South West London, his family life is documented at www.blakeparsons.com.
Rowan Douglas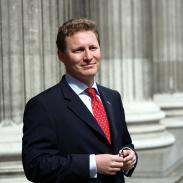 A board member of Willis Re, Rowan leads the company's analytics team and resources to support risk modelling, risk management and reinsurance transactions. He is also Chairman of the Willis Research Network (WRN), the world's largest collaboration between public science and the re/insurance industry. In 2008 Rowan was appointed by the UK Science Minister to Natural Environment Research Council (NERC) the public body which oversees public environmental science expenditure. He also sits on the Governing Board of the Global Earthquake Model Foundation, Pavia, Italy, and the Advisory Committee of the US National Centre of Atmospheric Research Earth System Laboratory, Boulder, USA.
Rowan began his career underwriting reinsurance at Syndicate 1095 at Lloyd's before founding the international risk information company WIRE Ltd in 1994 which he sold to Willis in 2000. Rowan was educated in geography with degrees from Durham and Bristol universities.